SIGNS OF LIFE | Brett Westfall and Moon Westfall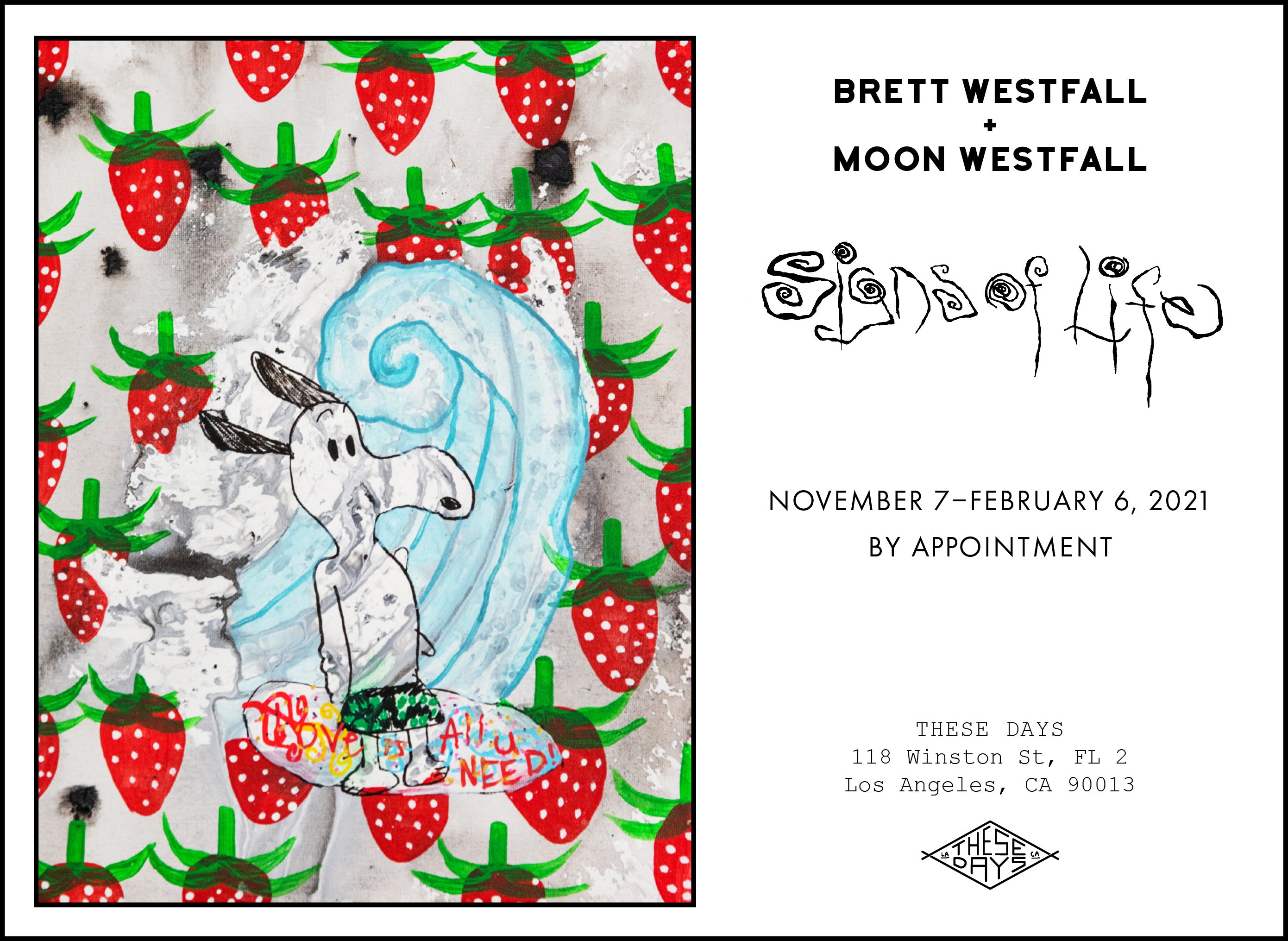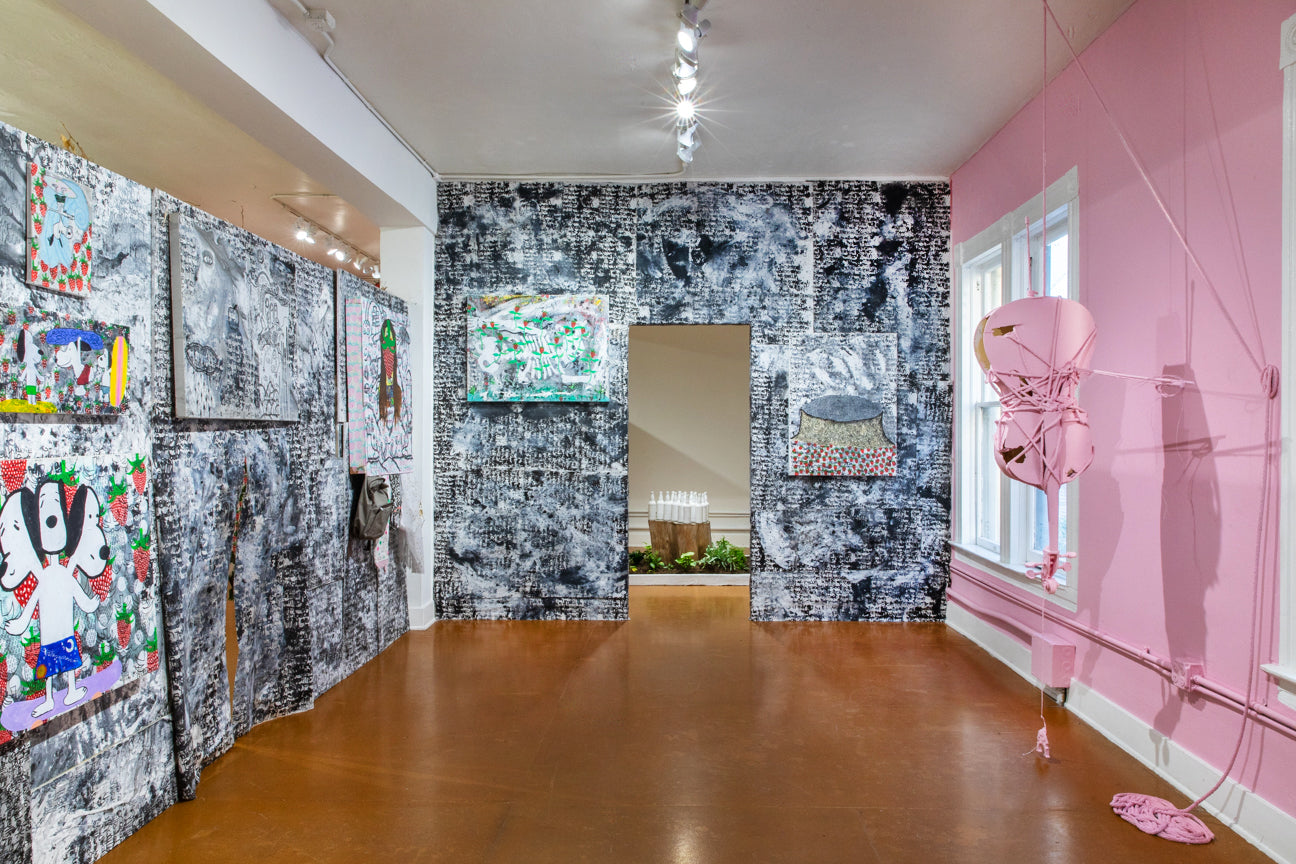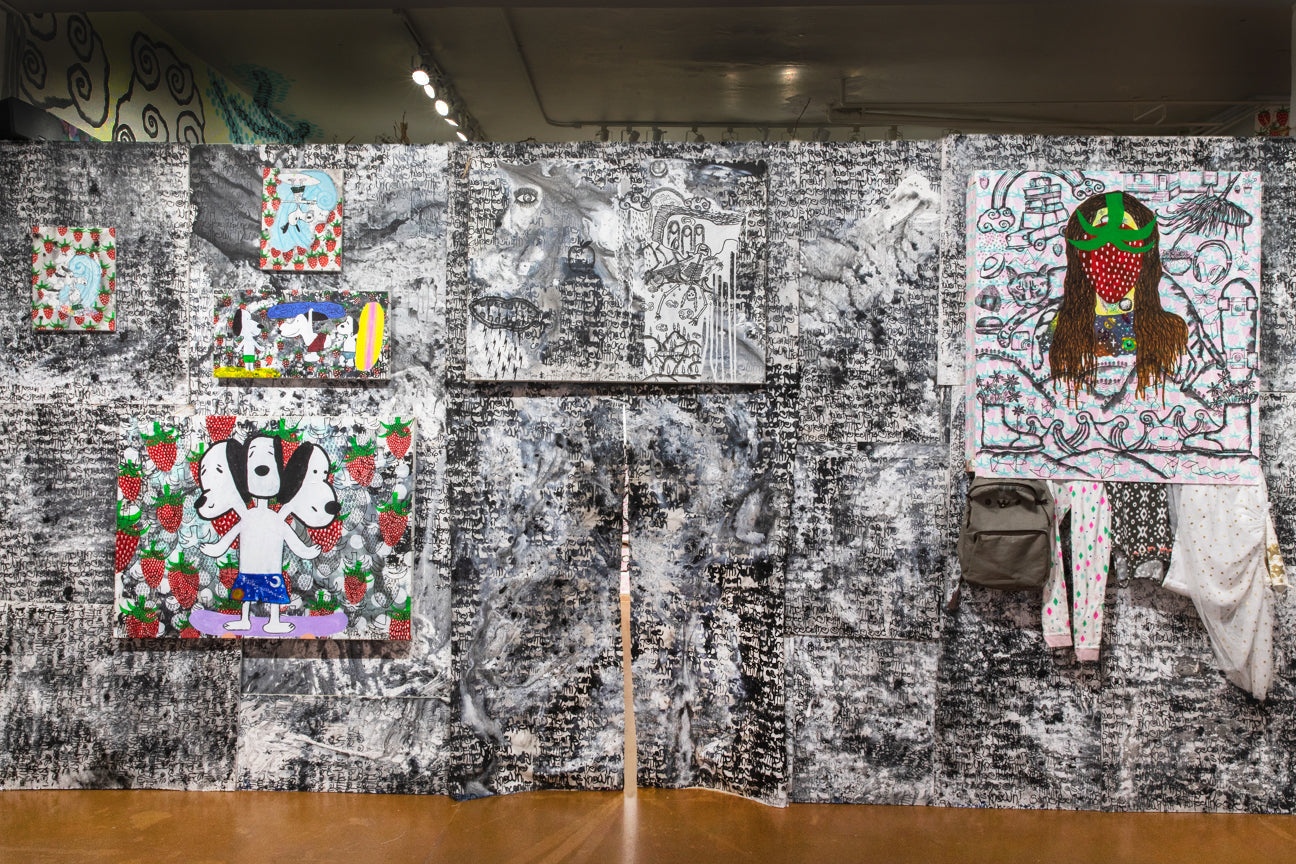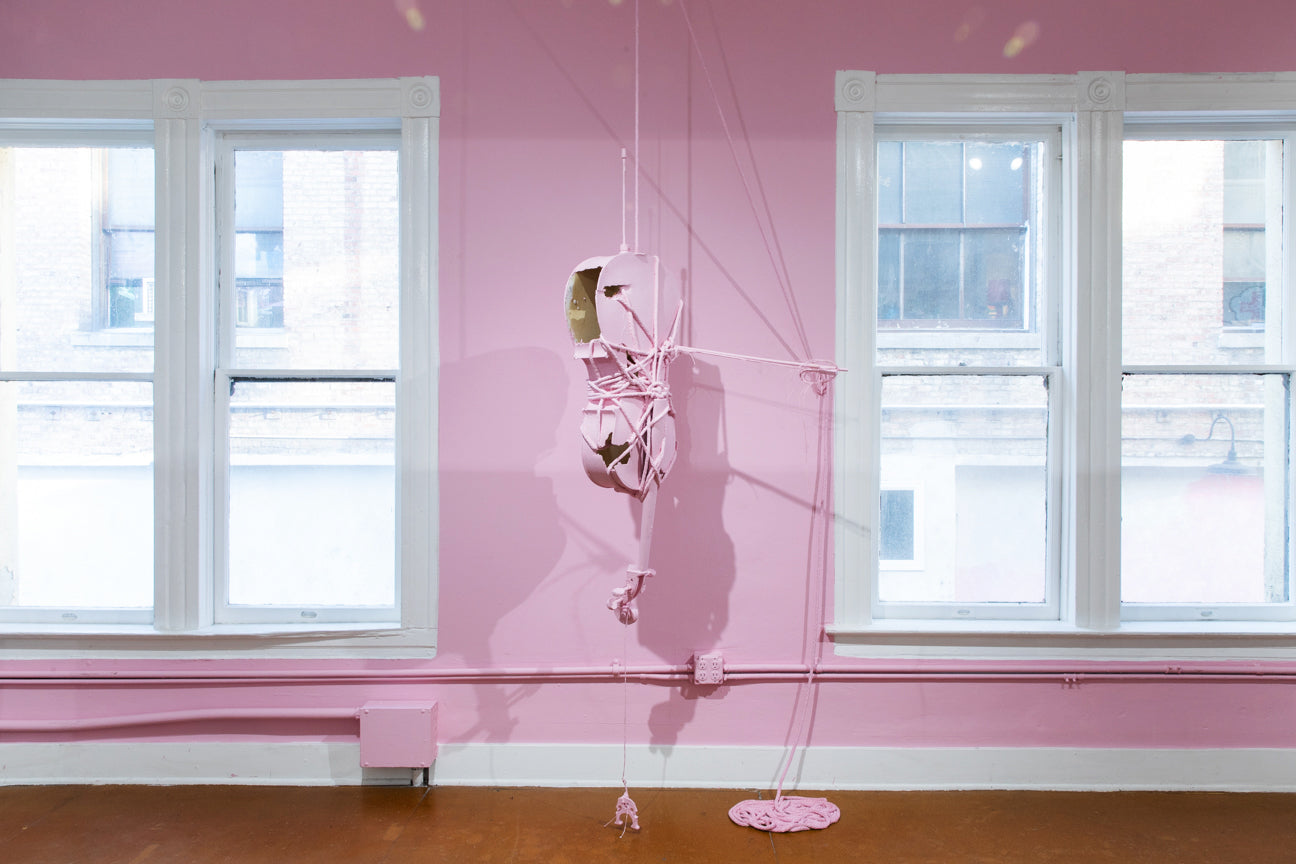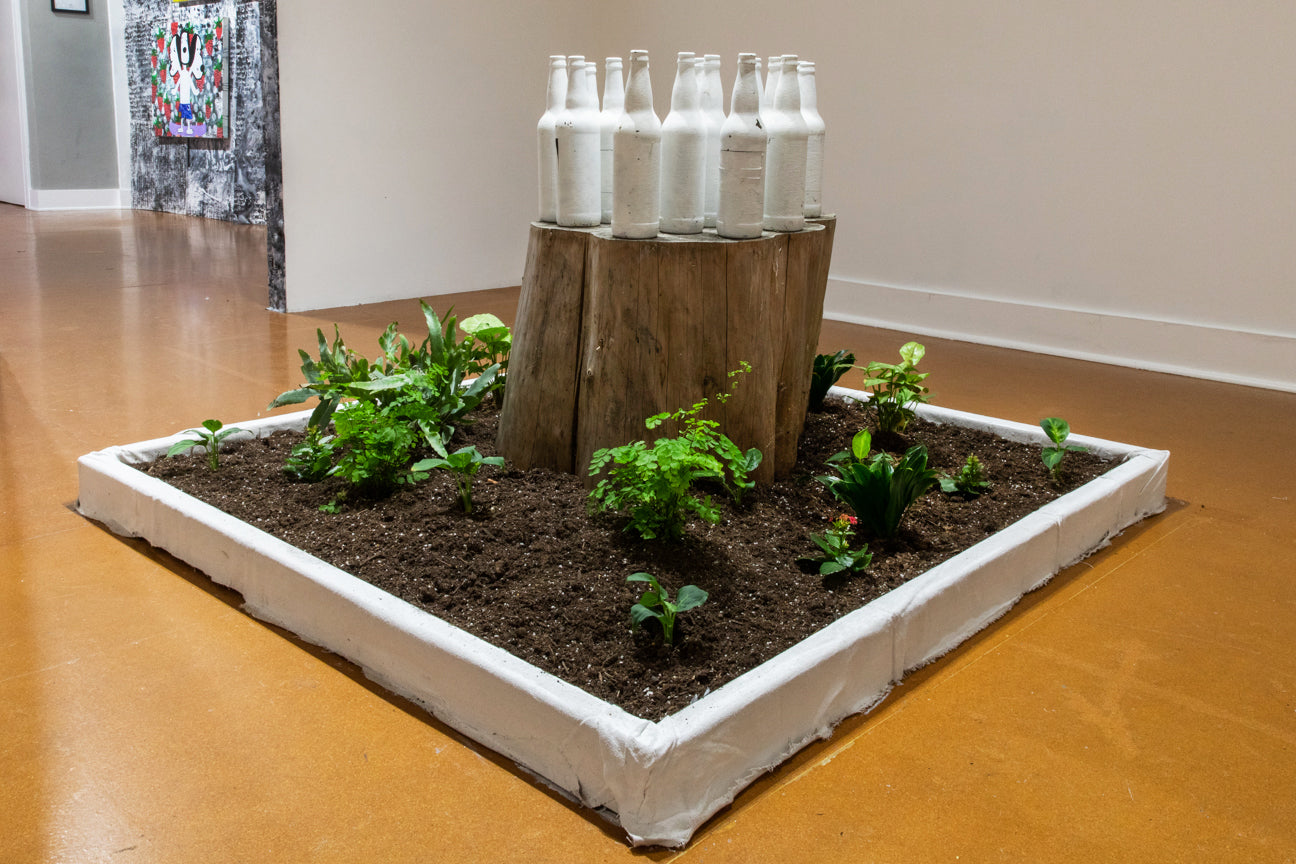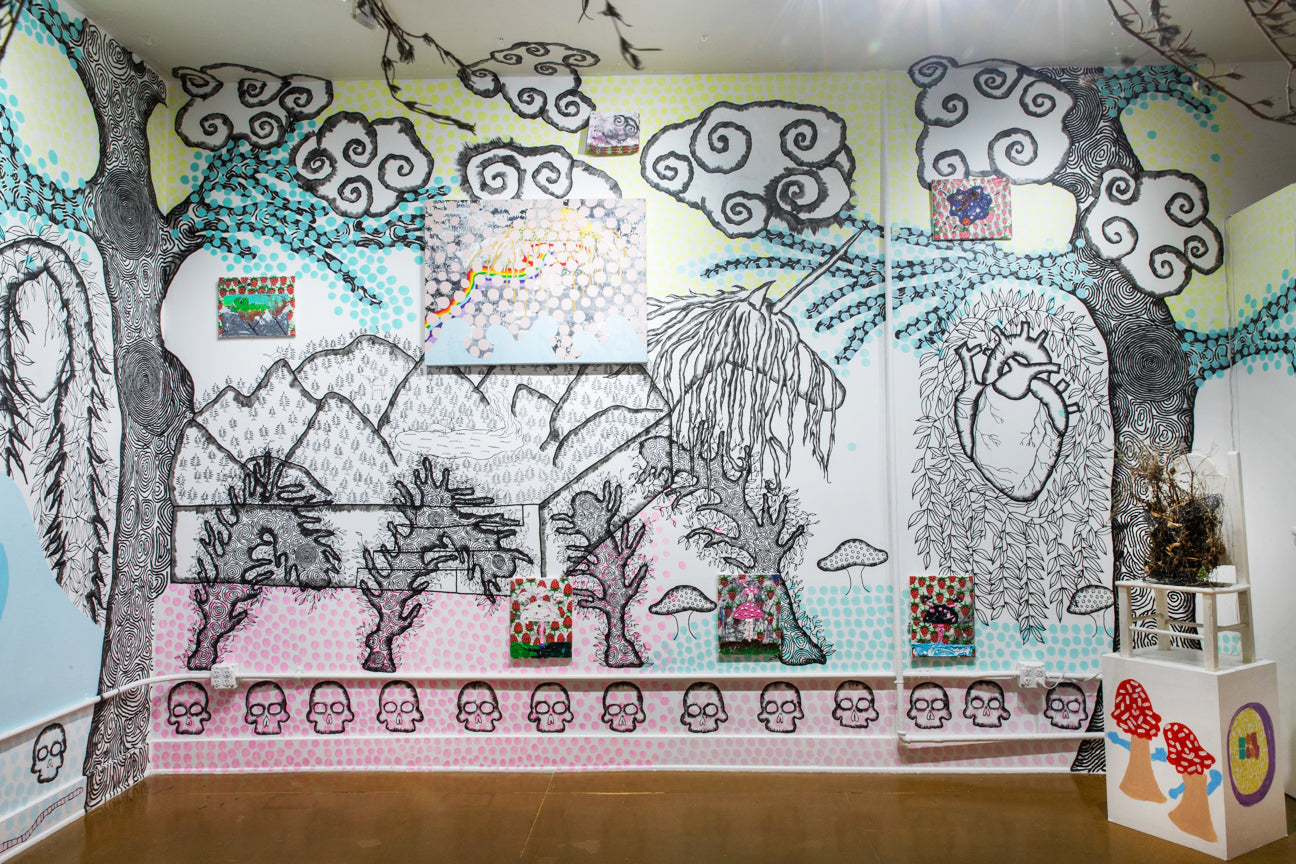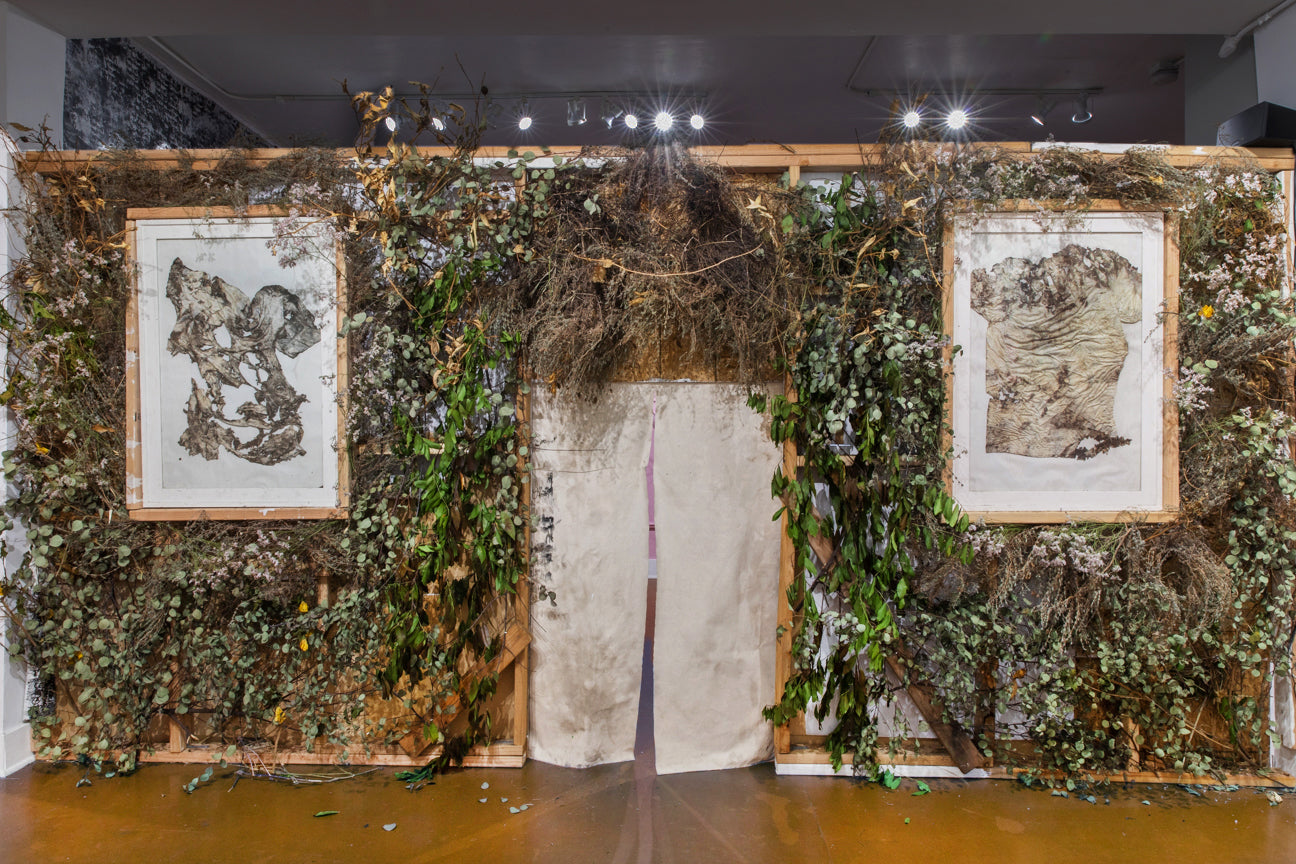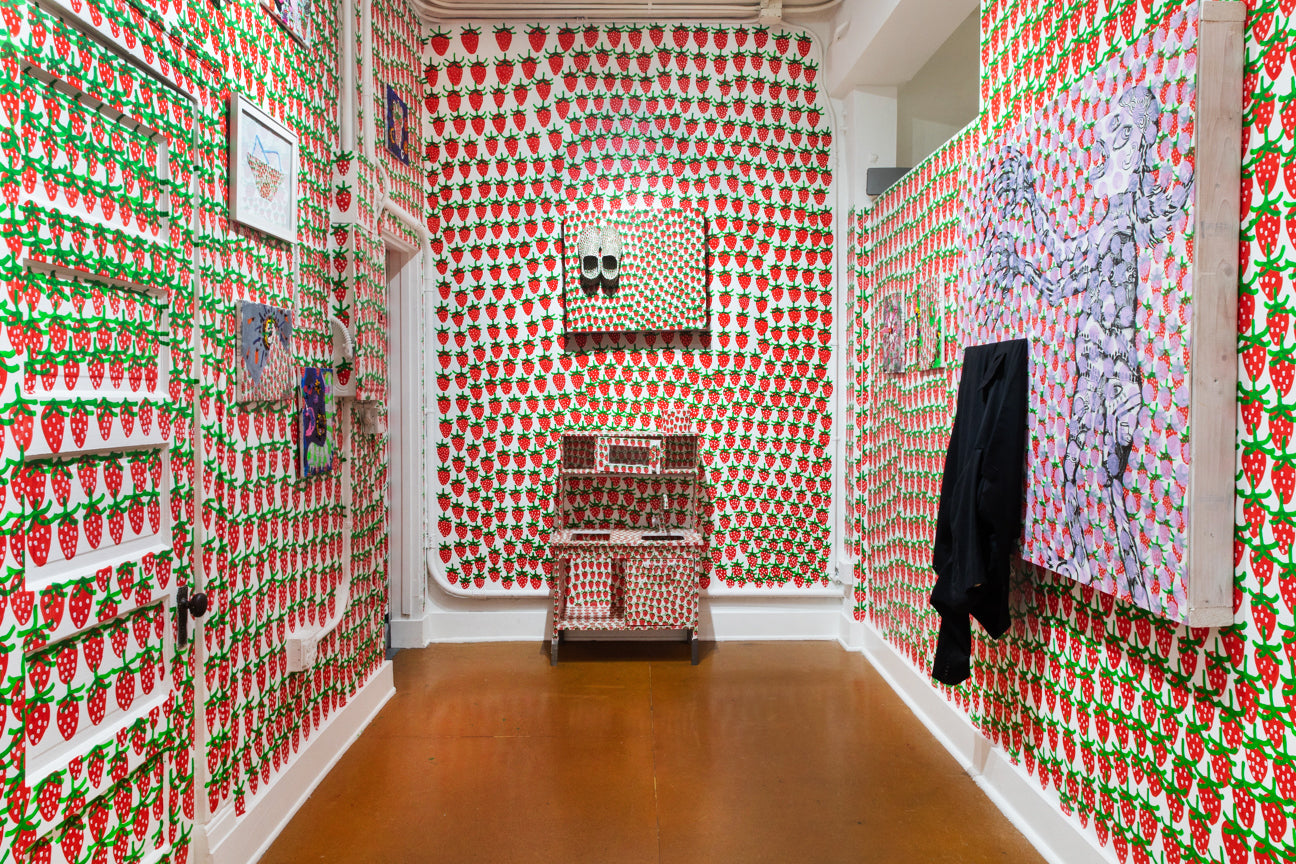 SIGNS OF LIFE | Brett Westfall and Moon Westfall

November 7, 2020 – March 21, 2021

These Days is pleased to present Signs of Life, an exhibition of paintings, murals, and assemblage by father–daughter artist duo, Brett Westfall and Moon Westfall.
For the past seven months, These Days has been closed to the public due to the pandemic, and without an exhibition. Three months ago, we approached artist Brett Westfall about doing an informal residency of undetermined length, as we had no idea when we could safely reopen the gallery. He came back to us with an endearing proposal of making the exhibition a collaboration with his ten-year-old daughter Moon.
Brett and Moon have been working diligently for the last three months building structures, painting canvases, and making labor-intensive murals that contain a visual language communicated by images of nature, mythical creatures, poetry, and Brett's iconic strawberries. Utilizing a variety of materials and objects to create defined and textured spaces throughout the gallery, the collaboration becomes an immersive installation that's as playful as it is thought provoking.
These Days couldn't be happier to emerge from this long period of isolation alongside Brett and Moon Westfall's Signs of Life.
ARTIST STATEMENT
When considering the concepts behind Signs of Life, many thoughts and emotions filled my mind and heart about what/how are the "things" that encompass the "idea". Basic human interactions, relationships with others/self, friendships, growth within, growth with others, the growth that I share with my daughter and wife, and the relationship human beings have with the Earth and the growth that develops as a result. There is also a mental growth and imaginative worlds which we all daydream about—whether it's a fantasy nature world filled with mystical spirit animals, a special place that one likes to travel to, or simply meditating on a different plane of existence. These kinds of mental escapes give us time to process emotional stresses, allowing human beings an internal break for mental healing. These are all things that develop with, and as a result of, inner and outer growth. Whether the change we experience is positive or negative, we as human beings must strive to move forward and fight for the growth and change that moves us in the right direction. Tolerance, love, compassion and empathy towards our cultural differences, helping each other and fighting for human rights. Living and working through a pandemic, and all of the destruction and human rights violations that are happening in this world, we must never forget to keep moving forward, taking care of each other, walking in the light within the darkness that surrounds us, always looking for the signs of life. –Love Respect Community Unity – Brett Westfall 10/2020
Brett Westfall (b.1978, California) is a multi-disciplinary artist working in mediums that include painting, assemblage, drawing, installation, fashion, video, film, and photography. Westfall utilizes his personal experiences and relationships with people and nature as the inspiration for much of his conceptual work. He founded the avant-garde clothing label Unholy Matrimony in 2002 and subsequently developed a 17+ year creative relationship with Rei Kawakubo of Comme des Garçons, whom he has collaborated with on numerous projects including work for Comme des Garçons Homme Plus as well conceptualizing and running a Comme des Garçons Guerrilla store in Los Angeles. Brett has shown extensively in galleries and boutiques around the world, including Maxfield, Dover Street Market and The Santa Monica Museum of Art. Westfall currently lives and works in Los Angeles with his wife and daughter where he creates art and tends his cactus garden.
Moon Westfall (b.2009, California) is a student of the 5th grade. When she is not studying, Moon enjoys making art. She also loves cats, Snoopy, skateboarding with her dad, and hanging out with her friends.