THE PAIN ISN'T OVER | Leafar Seyer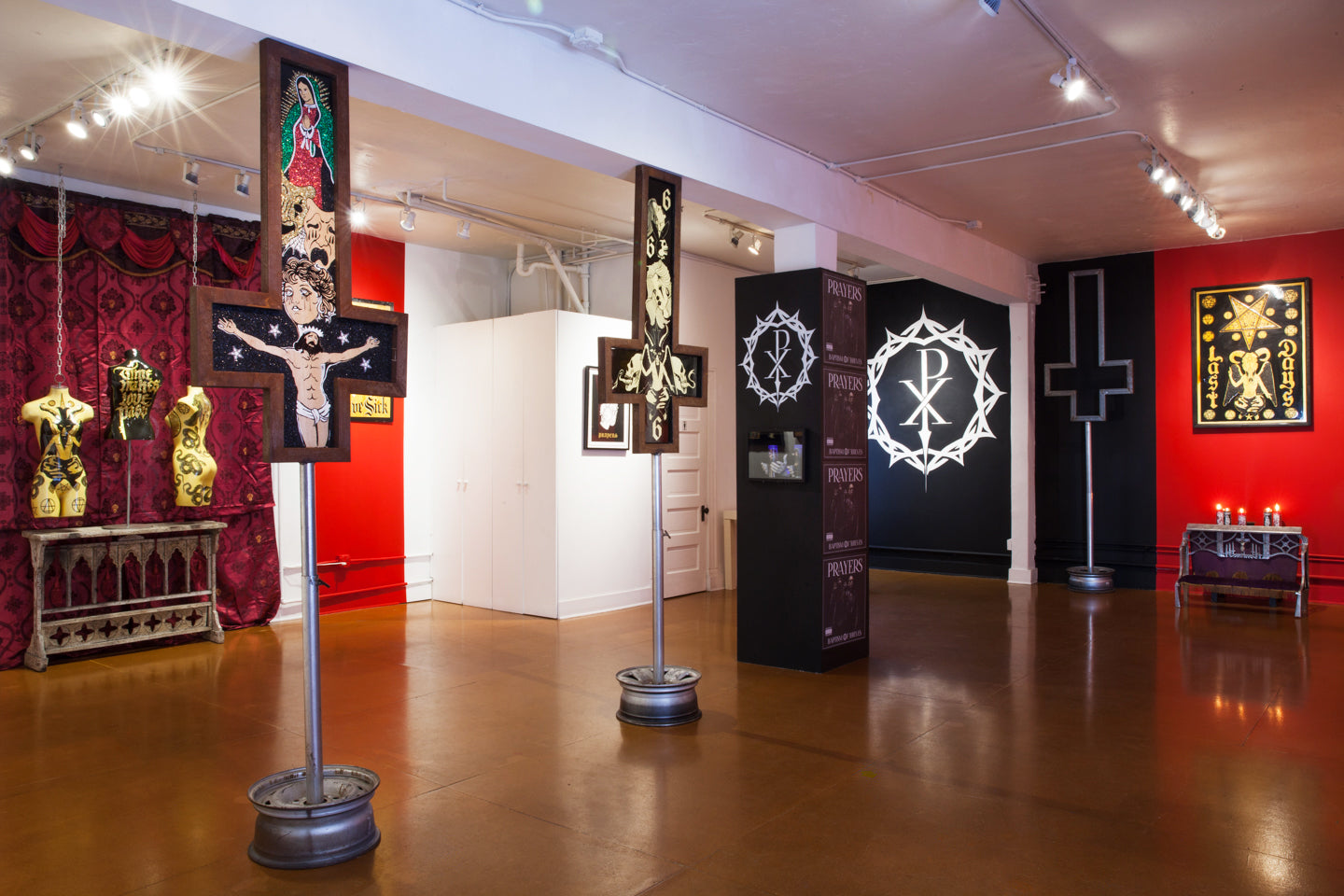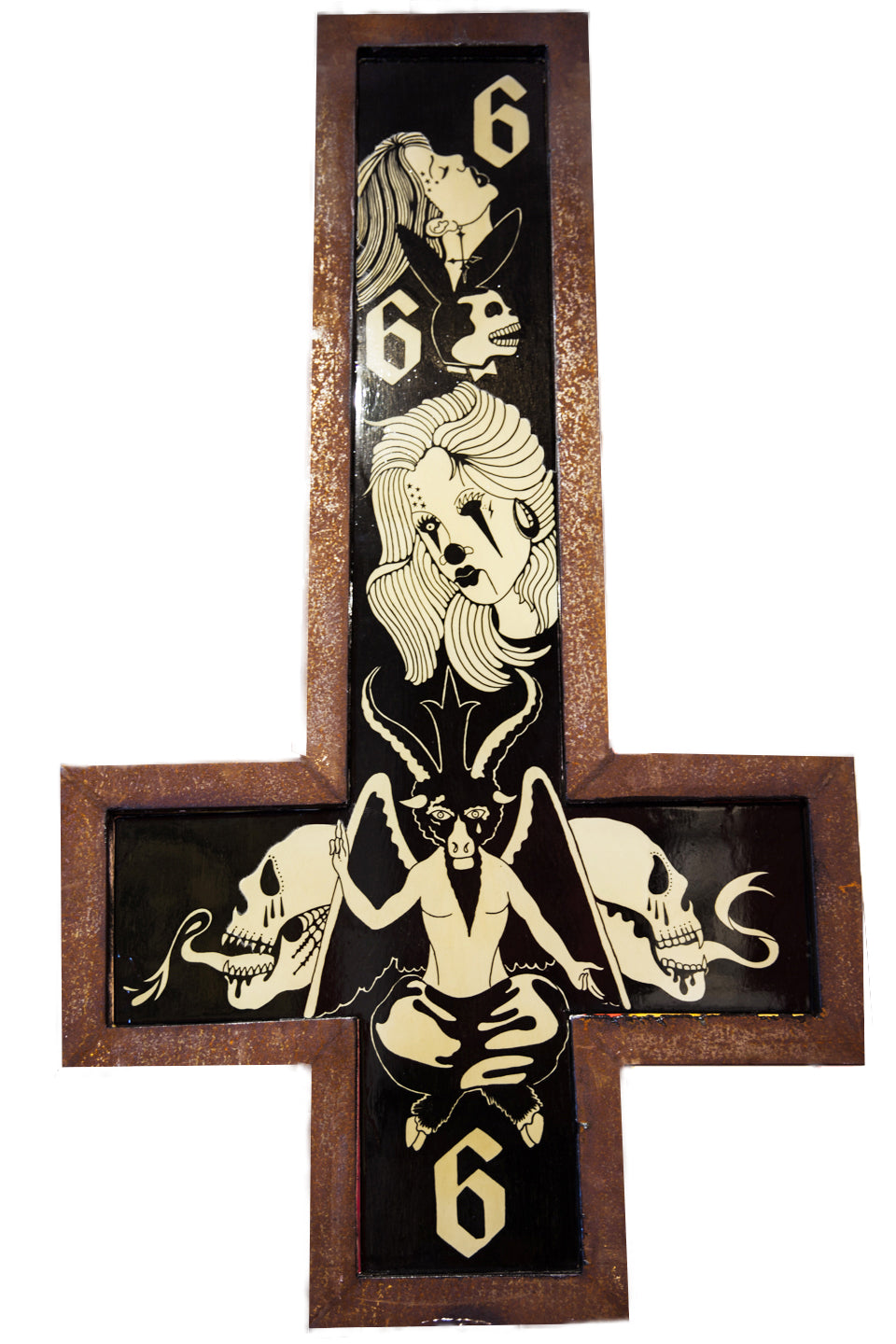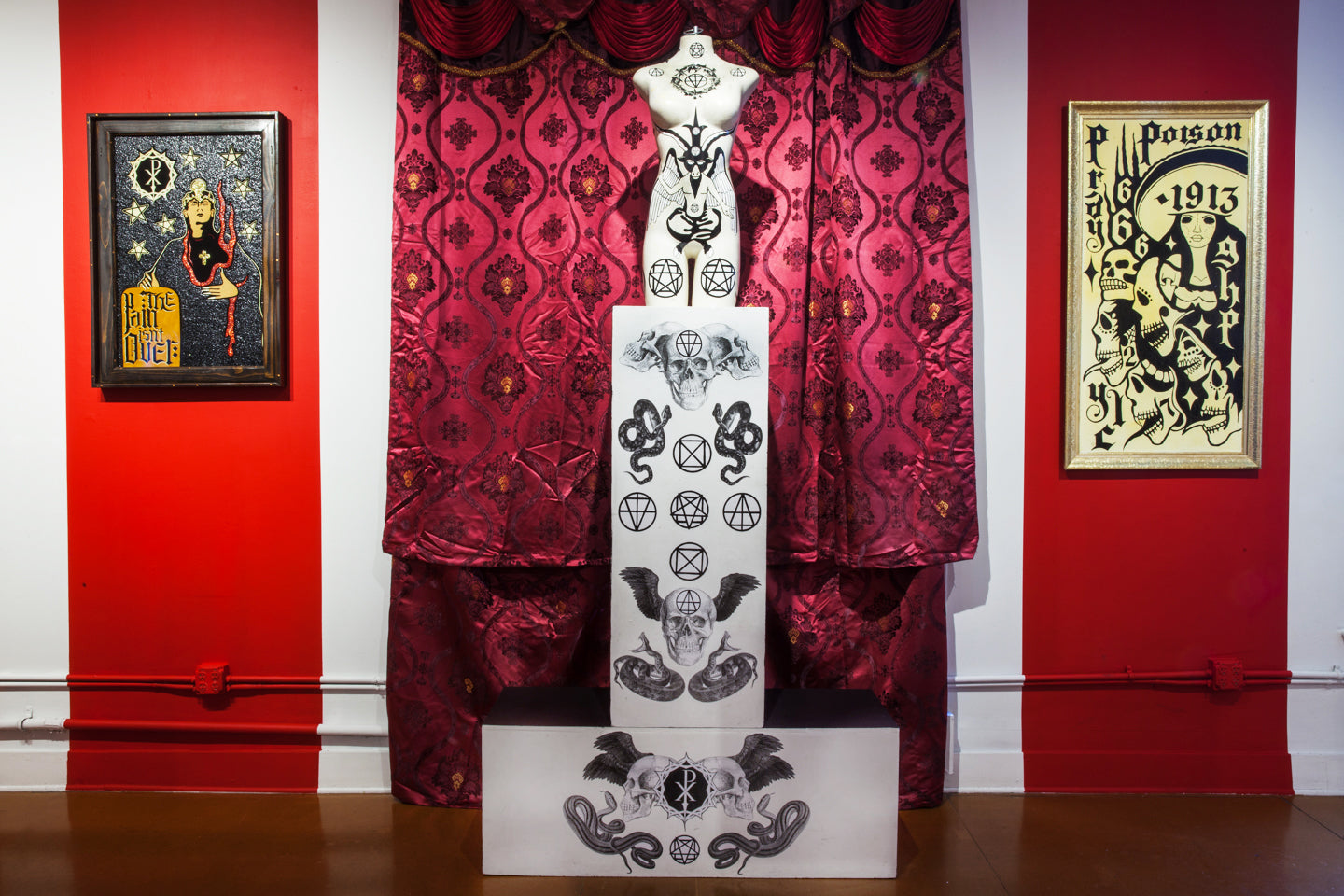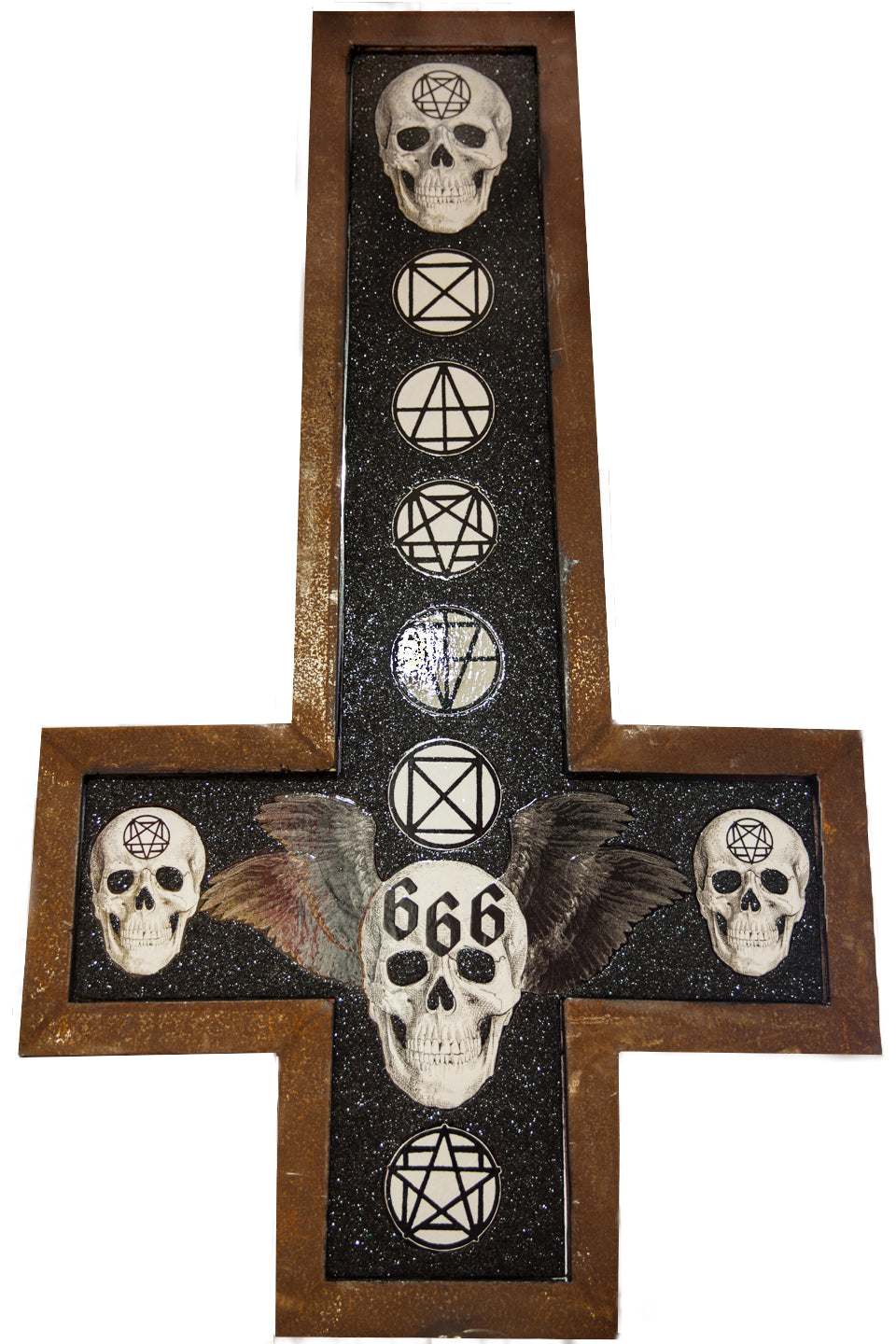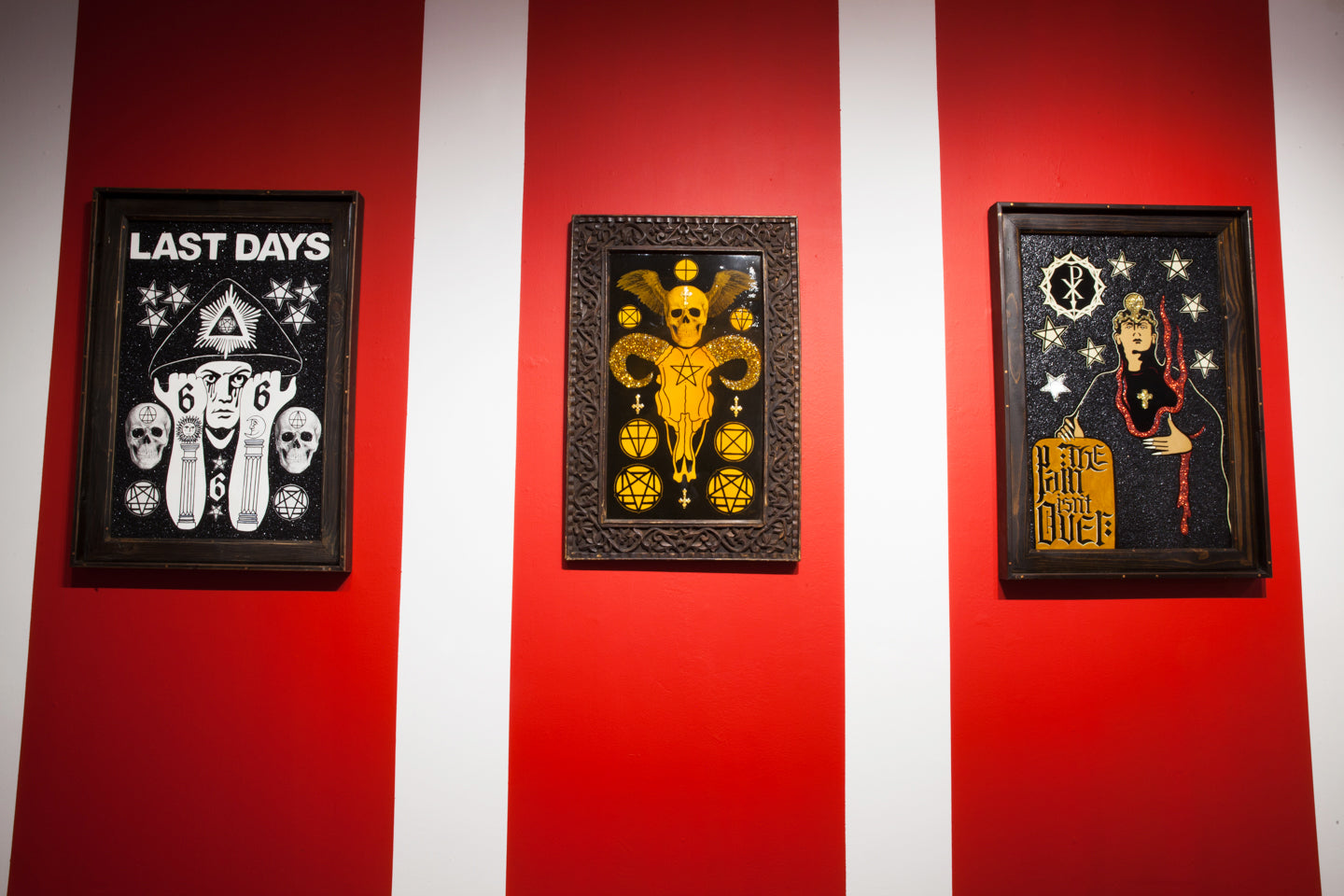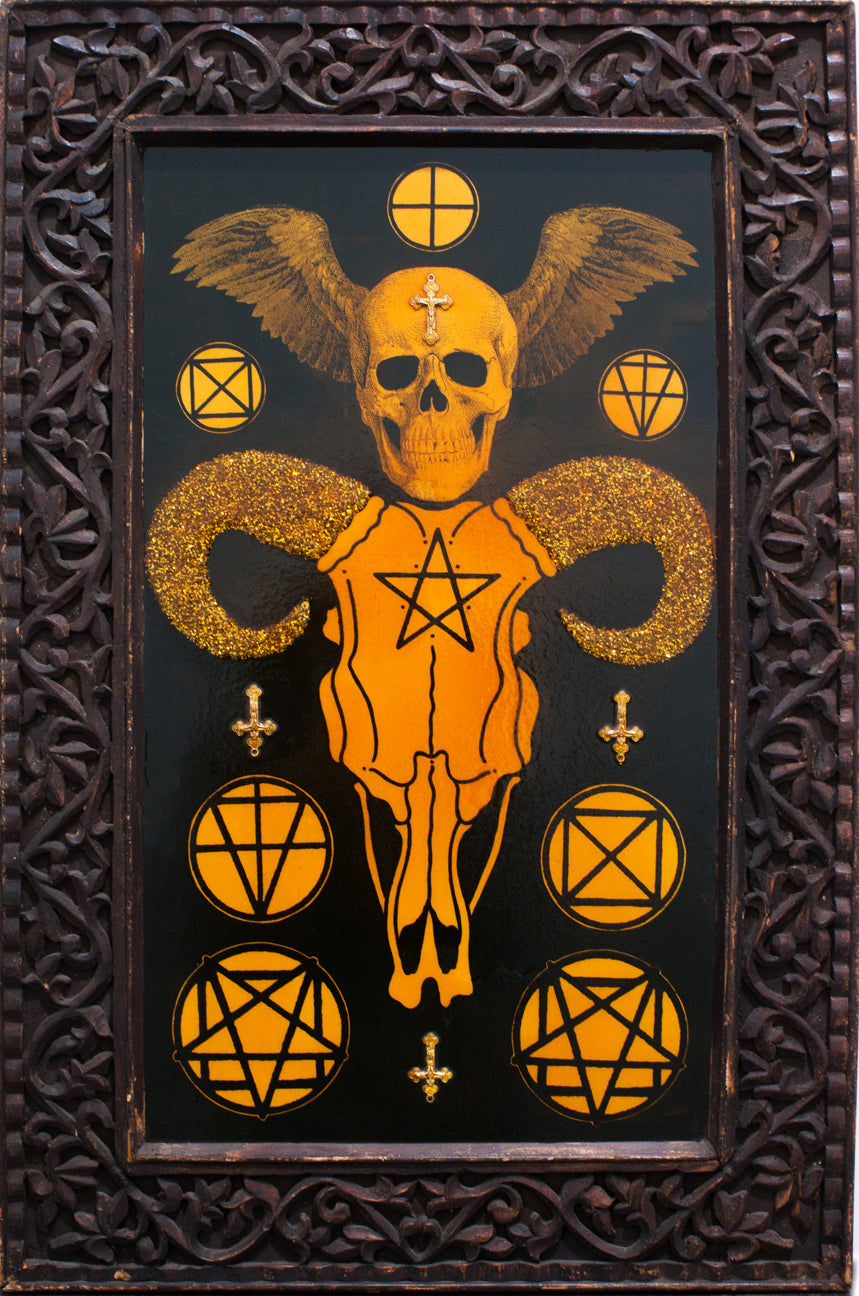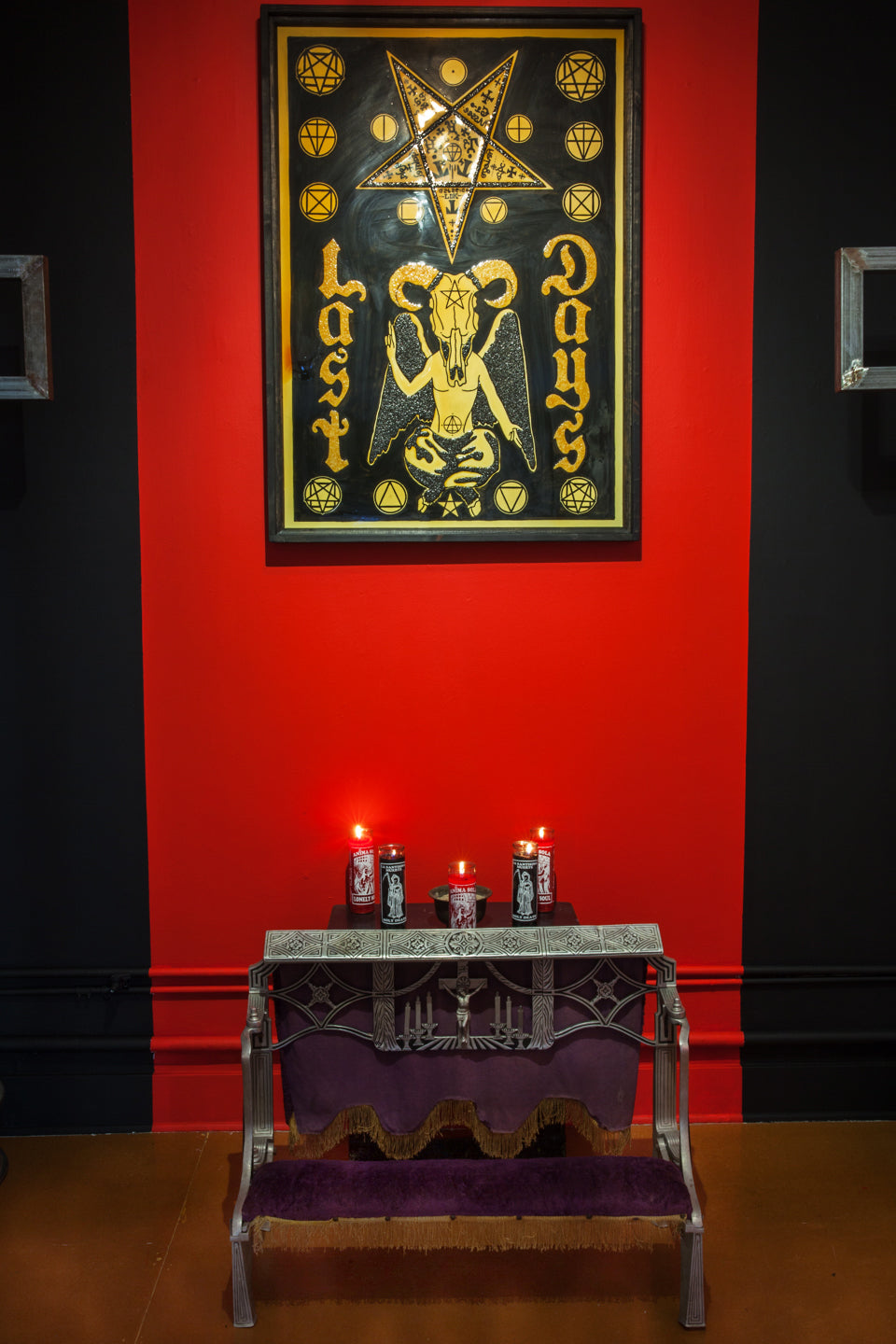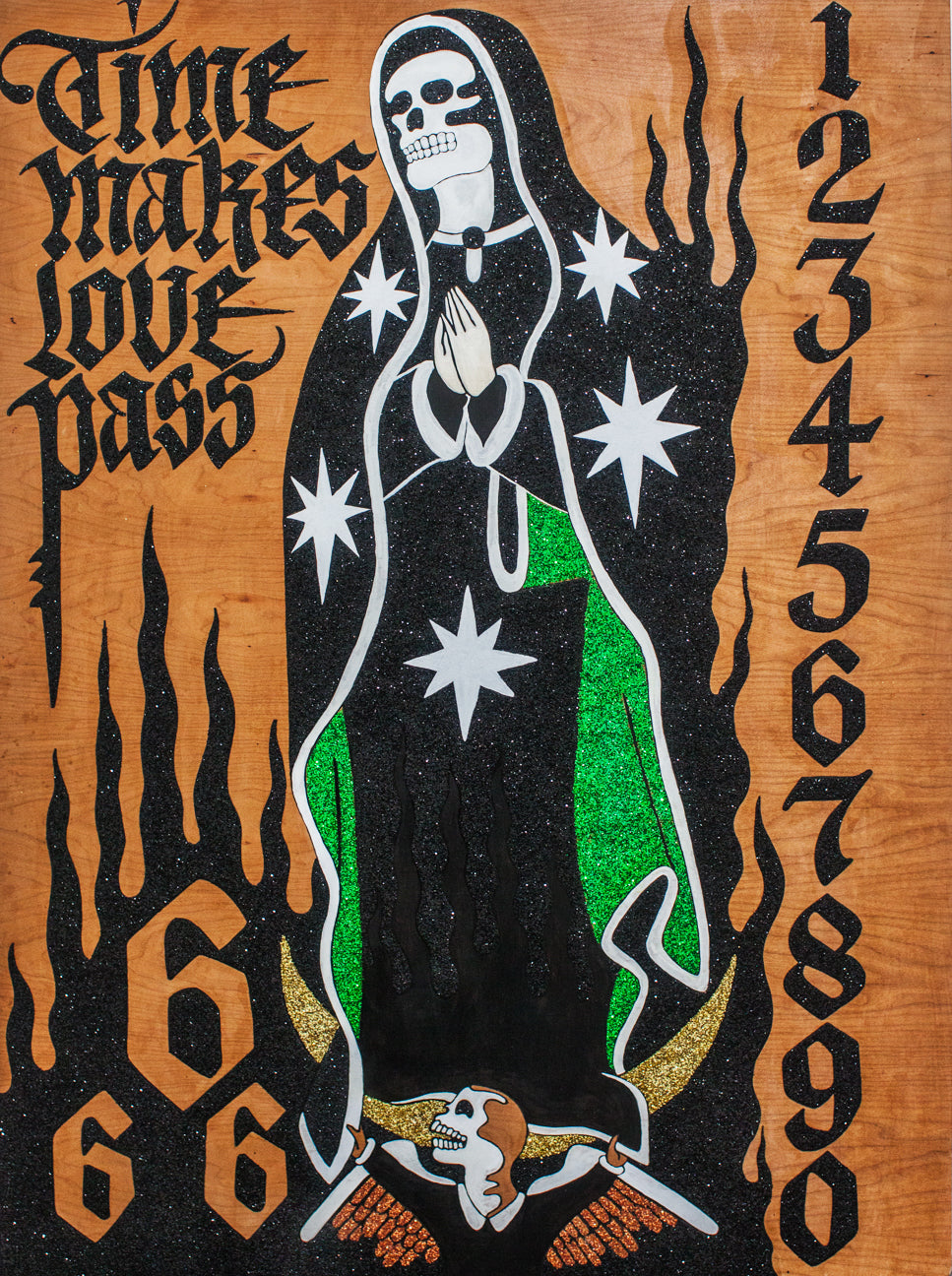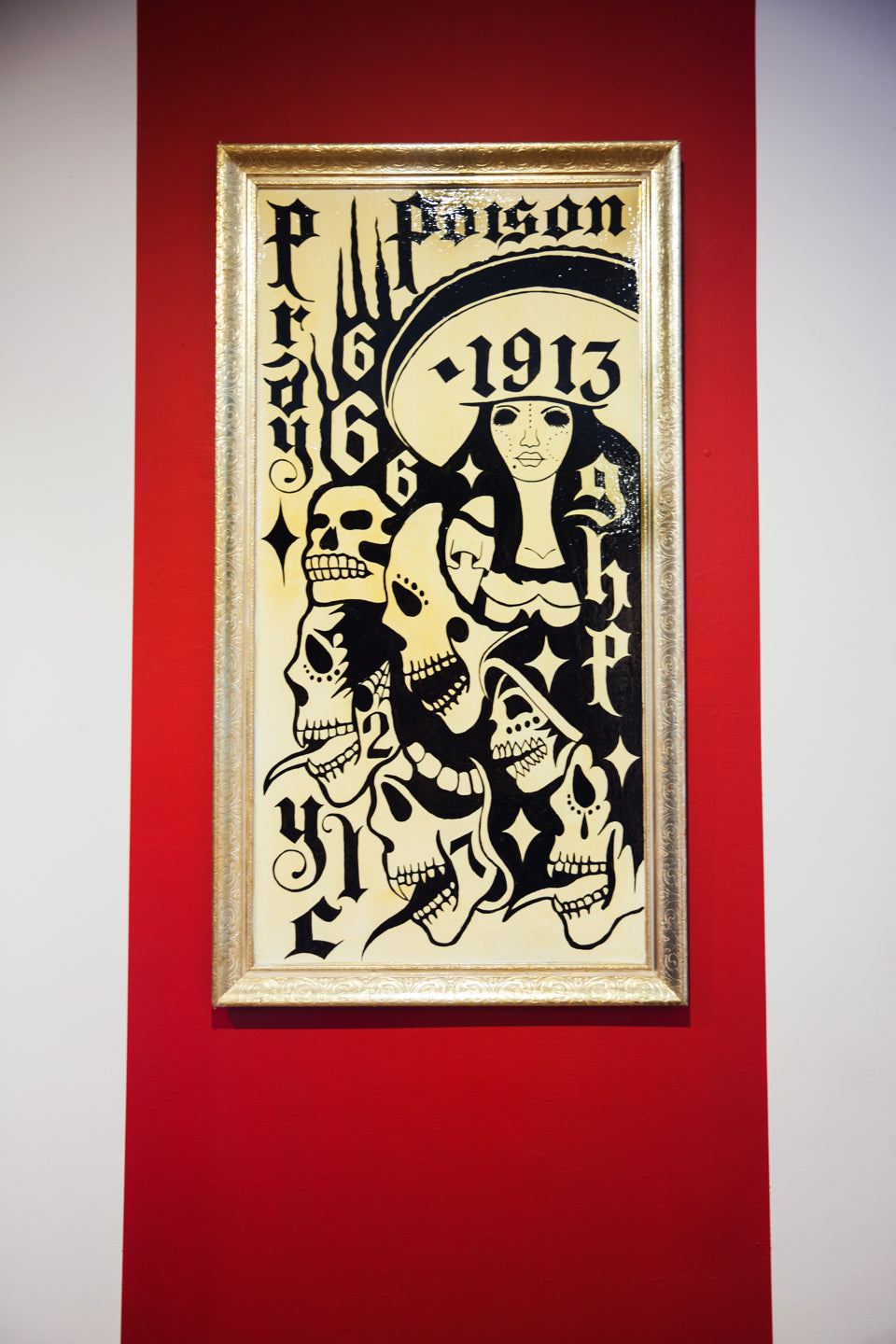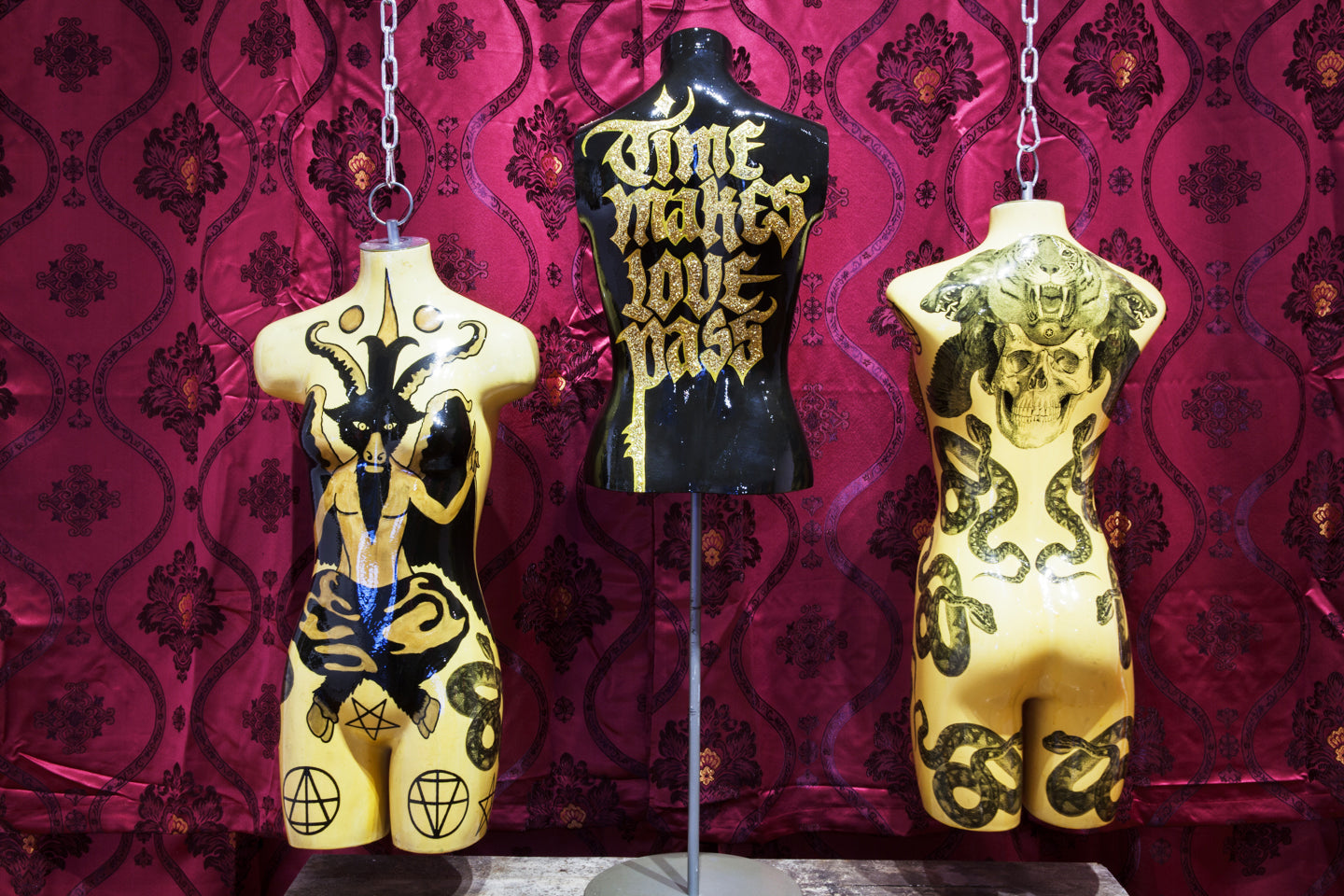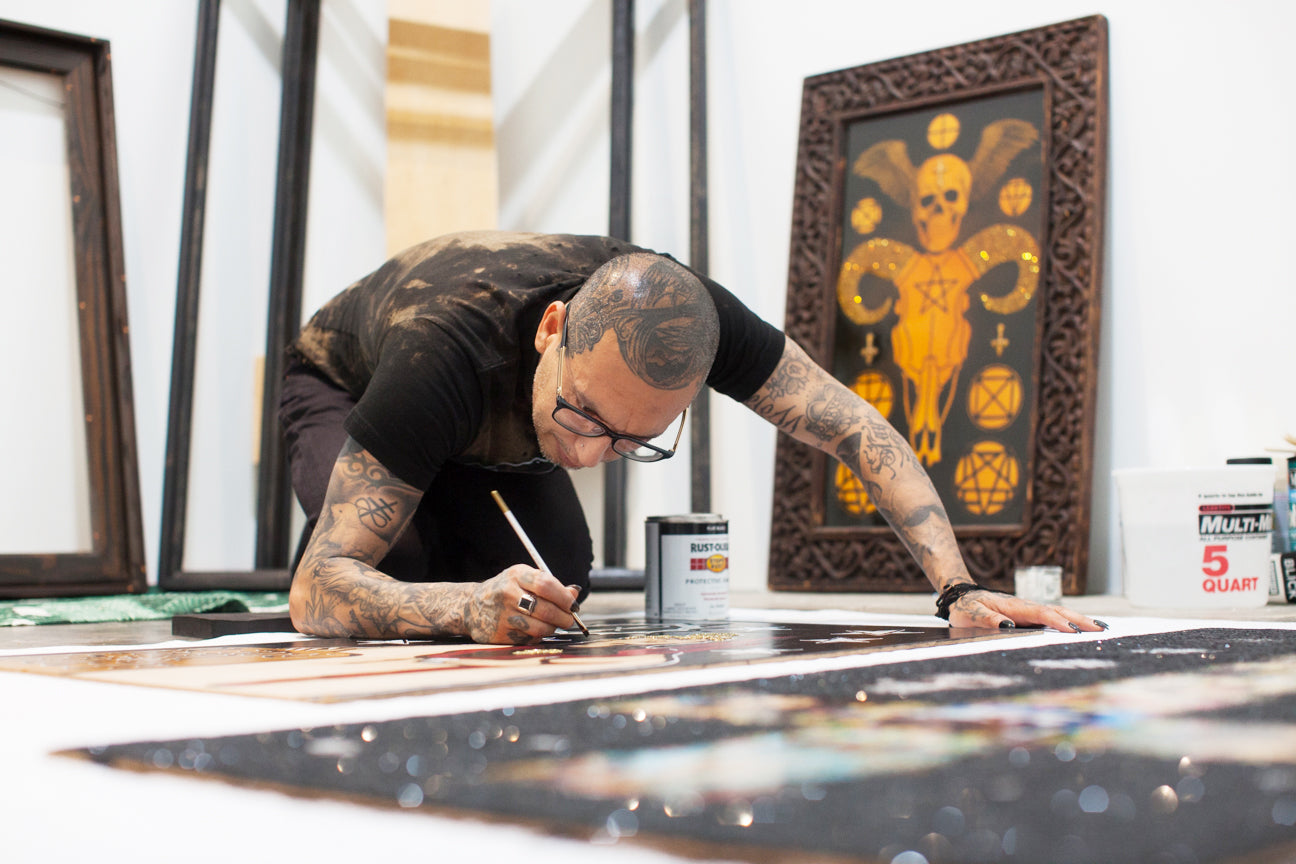 THE PAIN ISN'T OVER | Leafar Seyer
February 24 - April 8, 2018
Leafar Seyer, vocalist for the electronic duo Prayers, presents new works in his first Los Angeles solo show, The Pain Isn't Over. Seyer, born Rafael Reyes in Cotija, Michoacan, is best known for his recordings with Prayers: raw and poetic lyrics that fuse brutal street life with occult imagery, with music evoking both gangsta rap and lush New Wave. But Seyer has always created art, showing in San Diego before inclusion in group shows at Coagula Curatorial with John Fleck and Anthony Ausgang; at the LA Art Show with Cryptik and Prime; and most recently at MOAH Lancaster where he joined artists including Chaz Bojorquez, Big Sleeps, and Sandow Birk for a three-month long, critically acclaimed museum exhibition.
Seyer's ten new works combine with pieces from private collections, presenting an in-depth exploration of Seyer's ongoing process. For The Pain Isn't Over, the gallery space at These Days will be transformed into a complete installation, submerging the viewer into Seyer's worlds; a multiplicity of images arouse and hypnotize. A streetscape evokes Seyer's San Diego neighborhood, Sherman Heights; an altar is erected to Rozz Williams of Christian Death, one of Seyer's major influences. Christian Death's influence will also be celebrated with an exclusive photobook featuring a cover photo by Tyler Shields, with additional photos by Estevan Oriol, along with flexi-disc containing "Cursed Be Thy Blessings" by Prayers featuring original members of Christian Death. A separate limited hand cut 7" features this song and another new song from the Prayers x Christian Death collaboration. 
Along with paintings and sculptures and limited edition prints of Seyer's work, there will be more exclusive merchandise and collaborations, including tee shirt collaborations with Kill Your God from New York, San Diego-based Dead View, limited edition jackets, and copies of Seyer's first book, Living Dangerously.
Seyer and Prayers, which he formed five years ago with synthesizer and beat master Dave Parley, have achieved recognition and success, including a major label release and sold-out concerts, and Seyer has become an icon in both the Latino and Goth worlds. But as Seyer explains, "The pain isn't over; no amount of money, success, fame or love can heal the abused and wounded. This art show commemorates our accomplishment as Prayers, and my personal achievements as the loneliest god. For so much has changed in my life for the best, yet the pain isn't over."
Smuggled to the U.S. when he was four, and granted amnesty with a permanent green card under Ronald Reagan's sweeping immigration reform, Seyer was jumped into a gang at thirteen to protect his family from assault in his San Diego barrio. To cope with his difficult life, Seyer drew, painted and created mixed media collages. "I drew images of what I desired, what I wished to have occur in my life. As I read and learned more about sigils and occultism, I tapped further into my unconscious, while using art in a conscious manner to cause change to occur in accordance with my will."
Seyers' art work reveals the dichotomies of his reality, the dissonance of his existence as an indigenous person treated as an immigrant on his ancestral land, as a Goth in his gang neighborhood and as an outsider in Goth circles; and now even with his achievements, as a soul who still feels anguish and sorrow; the old pain, while it yields in part to the new, still remains. Traditional cholo iconography juxtaposes the underground and occult. The Olmec symbols of his ancestors struggle against the invading Catholic. Beauty is found in the rejected. The outcast is uplifted, but the pain isn't over.
In addition to traditional art, in his youth Seyer created graffiti murals throughout San Diego, and documented his work in what would eventually become his roman a clef coming-of-age novella, Living Dangerously. These Days will be selling limited copies of the first edition of this highly sought-after book featuring Seyer's art and photographs as well as artwork by others active in the San Diego graffiti scene in the late 1990s and early 2000s. Living Dangerously is considered an important enough document that it was added to the Cornell University Library's Architecture and Planning Special Collections. Seyer's artworks and those of other San Diego artists in Living Dangerously are displayed at Pokéz Mexican Restaurant, San Diego's oldest vegan/vegetarian restaurant which Seyer opened with his father over two decades ago and which is still run by his family.
Since forming, Prayers has toured with The Cult and A Perfect Circle, as well as selling out solo club dates across the U.S. They have recorded with Travis Barker, Pictureplane, Skinhead Rob, and Kat Von D who appears in the band's video, "Black Leather." Prayers' videos, envisioned and conceived by Seyer, have received over 5.5 million views on YouTube and have gained them a worldwide following. Prayers released their first two albums, SD Killwave and Gothic Summer, themselves. Their third, Young Gods, was produced by Travis Barker and released on his label LaSalle. Their latest, Baptism of Thieves was released in November through BMG.