NEW HUMAN IDENTITY | a video art series by Aleksandra Karpowicz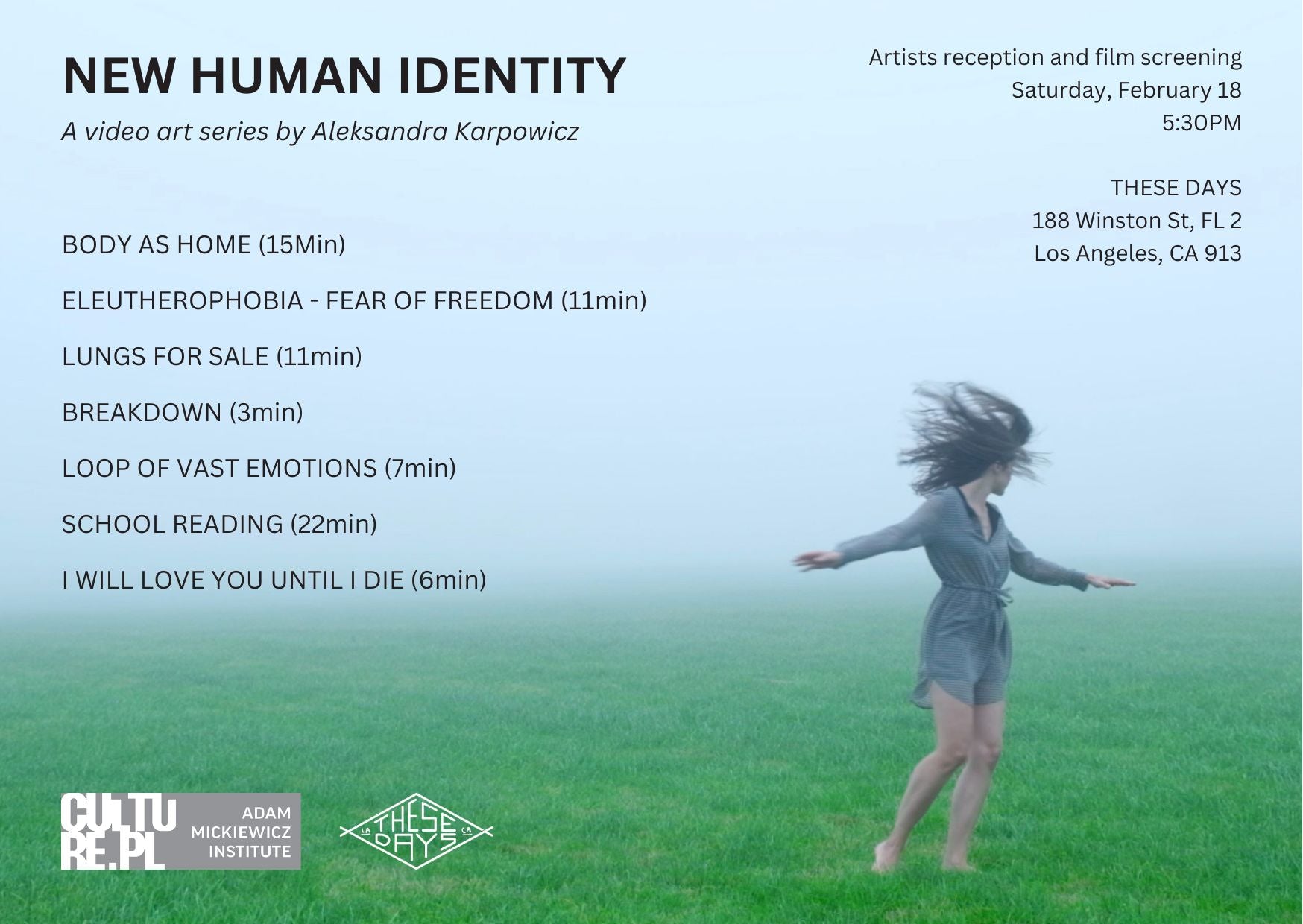 These Days, in conjunction with The Polish Cultural Institute, is pleased to present:
NEW HUMAN IDENTITY | a video art series by Aleksandra Karpowicz
Artist's Reception + Screening | February 18, 2023 5:30 PM doors, 6:00 PM screening 
BODY AS HOME (15 min)
ELEUTHEROPHOBIA - FEAR OF FREEDOM (11 min)
LUNGS FOR SALE (11 min)
BREAKDOWN (3 min)
LOOP OF VAST EMOTIONS (7 min)
SCHOOL READING (22 min)
I WILL LOVE YOU UNTIL I DIE (6 min)
Have you ever looked in the mirror and asked yourself who you truly see?
Do you feel that your life is fulfilling and aligns with your values?
Are you making a meaningful impact on the world?
These were the questions that led me on a journey of self-discovery. In January 2018, I found myself lost, struggling with confusion and a disconnect from my true identity. I knew I needed to embark on a journey to rediscover who I truly was." –Alexsandra Karpowicz
In this series of seven videos, Aleksandra Karpowicz applies personal experience in response to current global events. Literally baring body and soul, we witness the artist's journey in tackling identity, gender and mental health issues and are invited to apply these to universal notions of personal freedom from religious or political ideology, divisions and threats to civilisation and the environment.
Hard hitting messages are presented as beautiful and poetic, sometimes brutal and disturbing sensual essays that use the nude body as a vessel representative of our collective humanness. In their entirety they introduce the necessary steps towards a New Human Identity – a concept developed by the artist based on our collective aspiration as humans rather than our differences.
Born in communist Poland and currently based in London, Aleksandra Karpowicz is an award-winning artist working with video, photography, and performance. In her art she explores themes of relationship to body, psychology,  sexuality, and identity, and how those aspects of human nature are expressed and oppressed in our society and politics.
A great diversity of over 600 people from a range of social backgrounds, genders, sexuality, and ages appear in her work. She sees her art as an empowering platform of expression for both herself and the communities she works with.