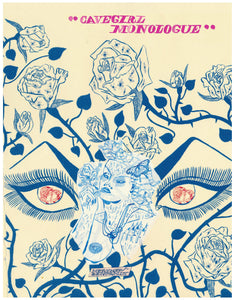 Cavegirl Monologue by Heather Benjamin
Published by Anthology Editions, 2018.
Hardcover, 188pgs
8.5 x 11"
Signed with small drawing
Benjamin's most substantial collection to date and the works range from the most minuscule of talismans to larger than life representations of female creatures. Much of the art in this collection is new and unreleased, but it also contains a selection from her artist's books and foldout zines, including the recent Romantic Story collection that was wildly popular and is now out of print.
Having spent years with her practice firmly rooted in DIY zine and comics culture, Benjamin's drawings of ultra femmes covered in blood, bugs, lipstick, and leg hair have typically been made with the intent of mass reproduction, through photocopying and screen printing. With her new work, Benjamin moves in an a more expansive direction and opens up infinite possibilities to experiment with scale, color, and medium, through her consistent excavation of intimacy, sexuality, self-perception, body dysmorphia, trauma, self-acceptance and actualization.